Tradition, Honor, Distinction
Suffolk County Detective Investigators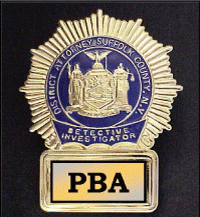 For over 50 years, Detective Investigators have served the Suffolk County District Attorney's Office with honor and distinction. Early Detective Investigators acted as special appointees of the District Attorney. In 1968, the Detective Investigator position became a competitive civil service appointment requiring highly specialized educational and law enforcement qualifications. Today's Detective Investigators function as the law enforcement arm of the District Attorney's office, participating in a broad range of criminal investigations, from economic crimes to international narcotics trafficking. Detective Investigators are classified "Police Officers" under the New York State Criminal Procedure Law, with county-wide jurisdiction to enforce all laws of the state.

Diversity of Education
Training and Experience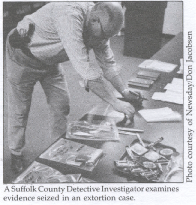 Suffolk County Detective Investigators come from a prestigious list of local, state and federal law enforcement agencies. This includes the NEW YORK CITY PD, SUFFOLK COUNTY PD, NASSAU COUNTY PD, NEW YORK STATE POLICE, SUFFOLK COUNTY SHERIFF'S DEP'T, SOUTHAMPTON PD, RIVERHEAD PD,ROCKVILLE CENTER PD, HEMPSTEAD PD, DRUG ENFORCEMENT ADMINISTRATION,FEDERAL BUREAU OF INVESTIGATION, ENVIRONMENTAL PROTECTION AGENCY, NEW YORK STATE PARK POLICE, UNITED STATES MARSHALL'S, NEW YORK STATE ORGANIZED CRIME TASK FORCE- Individually and collectively: The Detective Investigators have a total of over 1,500 years of experience as police officers which averages out to 27 years per Detective Investigator. The office combined has attended numerous professional law enforcement academies, schools, colleges, and training programs. The result is the appointment of an educated, highly trained and experienced police officer who is immediately prepared to take on the sophisticated law enforcement tasks assigned.

SPECIALIZED DETECTIVE UNITS
INVESTIGATIVE ASSIGNMENTS

Economic Crime Unit-- Environmental Crime Unit- Government Corruption Unit-- Technical Services Unit-- Domestic Violence Unit-- District Court Bureau Insurance Crime Unit-- Tax Fraud Unit-- Drug Enforcement Administration-- East End Drug Enforcement-- Major Crime Bureau--District Court Bureau-- United States Customs Task Force--

cheap nfl jerseys